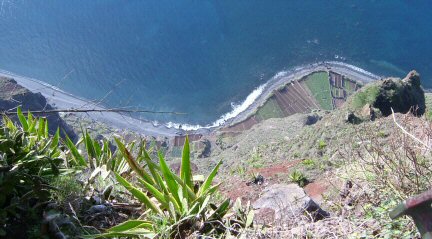 View from the top of Cabo Girão
The beautiful island of Madeira provides a fascinating array of breathtaking landscapes, from its verdant mountainous interior to the spectacular cliff faces of its rocky shorelines - including what is claimed to be the 2nd highest cliff-face in the world at Cabo Girão. The island enjoys a warm climate which facilitates its two main exports: bananas, and wine. Everywhere you look on this island, you see banana trees!
The capital of Madeira is Funchal - a thriving town of interesting architecture, traditionally Portuguese cobbled pavements, and lots of cafés and bars. Also well worth a visit is the town of Porto Moniz, where you will find geothermally heated swimming pools, adjacent to a majestic rocky coast. Travelling inland, you can experience the fantastic vista at Encumeada - the only place on the island where you can see both the northern and southern coasts. Local delicacies include honey cake ('bolo de mel'), and of course the fortified wine that bears the island's name.
Visitors to this volcanic island cannot fail to be impressed with its colourful scenery. Even the wild flowers and plants are spectacular, with various cacti and 'bird of paradise' plants thriving here. Despite the impressive beauty of the environment though, many young Madeirans seem to be keen to get off the island - it is seen by some as a great place to visit, but a boring place to live.

In my own experience though, this is perhaps the 2nd most beautiful place I have ever visited (first place goes to the Italian island of Capri, off the Sorrento peninsula). An outstanding holiday destination, and a great chance to practise your Portuguese!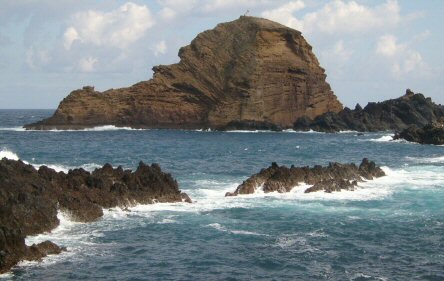 Porto Moniz
In addition to the main island of Madeira, there is a small population on the tiny island of Porto Santo - worth a visit if you like beaches, as this is the only place you will find a decent quantity of sand. There are also a few scattered islands that are uninhabited, but still form part of the archipelago.